SIT40516 Certificate IV in Commercial Cookery
CRICOS CODE 096937A
SIT50416 Diploma of Hospitality Management
CRICOS CODE 096127B
(PACKAGED)
The SIT50416 Diploma of Hospitality Management and SIT40516 Certificate IV in Commercial Cookery programs will provide you with a unique learning opportunity that will equip you with the skills and knowledge required to gain management level employment in the hospitality industry
Certificate IV in Commercial Cookery program provides a comprehensive overview of commercial cookery practices, while the Diploma of Hospitality Management provides a sound knowledge of hospitality operations.
Completion of this course will see clear benefit from better opportunities in gaining employment in the hospitality industry.
col a
col b
Study Mode
Campus based Training
Total Units
33 (26 Core + 7 Elective) for SIT40516
28 (13 Core + 15 Elective) for SIT50416 (includes up to 22 Credit Transfers which may apply on completion of SIT40516)
Duration of Course
24 months full time [20 hrs per week]
Recognition
Nationally recognised training
Start Date
Enrol anytime for intakes in February, April, July and October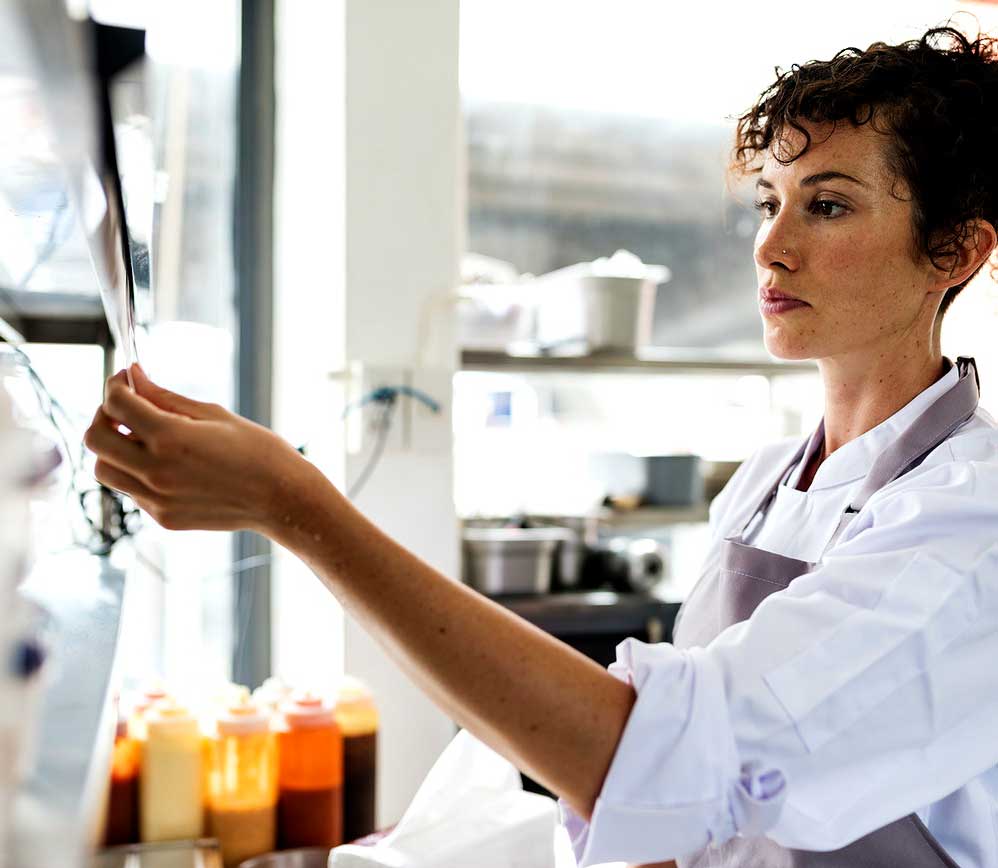 Minimum age
You will need to be at least 18 years old to apply for this course.
Computer requirements
In order to complete the online components of this course you will need regular access to the following:
Laptop or desktop computer with working speakers or headphone points;
Internet: High speed internet such as Broadband or ADSL
[internet and computer are supplied for use at the campus]
Career outcomes
Chef
Hotel Hospitality Manager
Café Owner / Operator
Catering Manager
Catering Company Owner / Operator
SIT40516 Certificate IV in Commercial Cookery
SIT50416 Diploma of Hospitality
Uniform (approximate cost $170.00)
1 x Chef Jacket White
1 x Chef Trouser Check
1 x Cap White
1 x Apron Waist White
1 x  Neckerchief White
1 x pair black, non-slip Chef shoes
Knives and Other (approximate cost $270.00)
1 x Club Premium Chef Knife 25cm
1 x Club Premium Fillet Knife
1 x Club Premium Boning Knife
1 x Club Premium Turning Knife
1 x Palette Knife 20cm
1 x Club Premium Bread Knife
1 x Victorinox Peeler
1 x Sharpening Stone Combination
1 x Combination Zester Vogue
1 x Club Premium Paring Knife
1x TKC Sharpening steel
1x Pastry Brush Vogue 1"
1x Digital Food thermometer
1x Dough Scraper
1x Knife Case 17 packet
2x Kitchen Towel
1x Nozzles Set 3 each assorted
1x Pastry Bag Thermo
We are located in Brisbane and Townsville, Queensland, along the east coast of Australia.
Both of our campus locations are easily accessible by public transport, with a short walk to the central business district. We are close to major amenities, such as cafes, a library, restaurants & student accommodation options.
Pathways to further study
If your goal is to progress to higher level skills or management, this certificate course will provide a solid foundation upon which to progress into the following;
Advanced Diploma of Hospitality Management
Diploma of Business
If you wish to pursue further study at a University, Axial Training has credit articulation agreements in place to help you achieve this study goal. Contact us for assistance in calculating the University credits available to you upon completion of your Axial studies.