SIT40516 Certificate IV
in Commercial Cookery
CRICOS CODE 096937A
Certificate IV in Commercial Cookery Courses Brisbane
Axial International College's Certificate IV in Commercial Cookery course will provide you with all the skills and knowledge needed to gain employment and excel in the field of commercial cookery
Taking the commercial cookery class will allow you the opportunity to get hands-on training at our Brisbane or Townsville Training Kitchen. The Certificate 4 in Commercial Cookery will serve as the perfect jump-off point to your exciting career in commercial cookery as well as diving deep into more advanced commercial cookery courses.
Partaking in the Certificate IV Commercial Cookery will give you extensive access to a various theoretical and practical learning opportunities, which can help equip you with the necessary skills needed to gain employment and perform confidently in your role as a commercial cook.
| col a | col b |
| --- | --- |
| Study Mode | Workplace & Online |
| Total Units | 33 (27 Core + 6 Elective) |
| Duration of Course | Up to 24 Months |
| Recognition | Nationally recognised training |
| Start Date | Enrol anytime |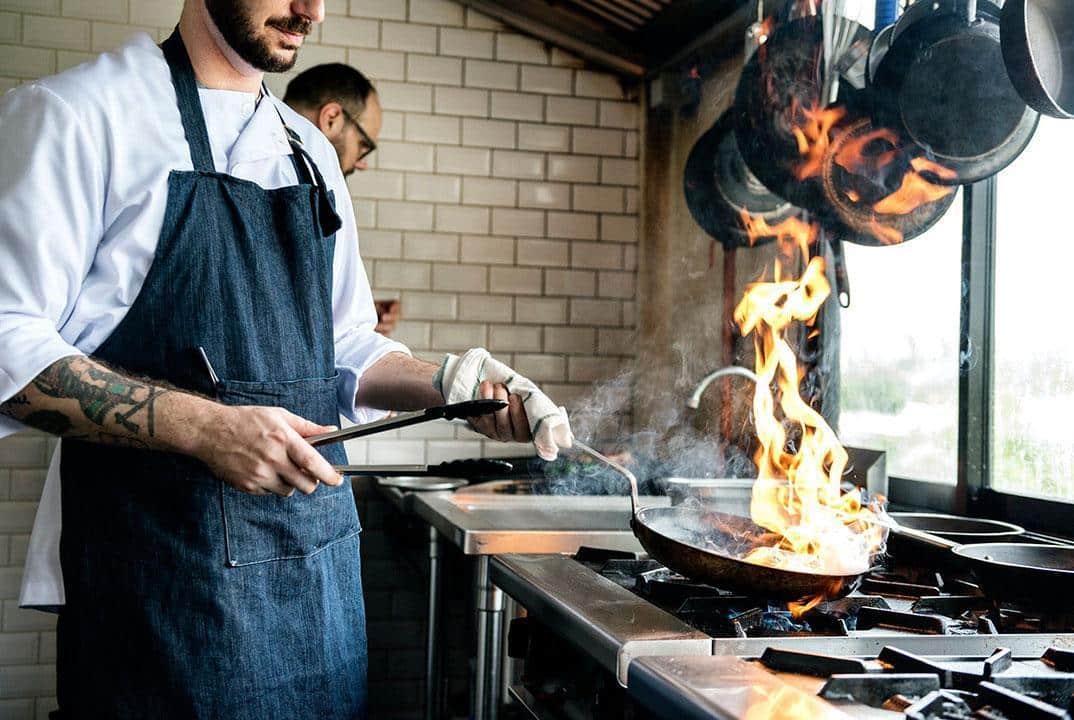 Possible Career Outcomes for Commercial Cookery Courses
Learning all the facets of working within and organising a commercial or professional kitchen will give you a broad range of skills, including selecting, preparing, executing a diverse menu using various techniques. Knowing staffing, environmental adjustments, seasonal menus, quality and stock control, costing and financing, as well as leadership and management, will allow you to excel in the following careers.
Head Chef
The Head Chef is in charge of ensuring that the department's standard and quality of food production and the department's hygiene are kept at the most outstanding level possible at all times. This very hands-on position requires meticulous attention to detail and a constructive attitude.
Commercial Cook
A cook produces quick and easy meals. Cooks generally work on multiple orders to bring the food to clients as quickly as possible. To keep a clean kitchen and preserve the freshness and quality of their ingredients, they use food safety and hygiene practices. Other tasks include cost and inventory control, ensuring menu delivery, monitoring and complying with WHS, and keeping upbeat with current cooking and restaurant business trends.
Catering Manager
Catering managers are in charge of event planning and management. They are responsible for working with customers to assess their catering needs, supervising catering workers, and coordinating food preparation and serving during events. It may also be necessary to arrange for food and catering equipment transportation.
Minimum age
You will need to be at least 18 years old to apply for this course.
Requirements
In order to complete the online components of this course you will need regular access to the following:
Laptop or desktop computer with working speakers or headphone points;
Internet: High speed internet such as Broadband or ADSL
[internet and computer are supplied for use at the campus]
Career outcomes
Chef
Cook
Catering Manager
Catering Company Owner / Operator
Uniform (approximate cost $170.00)
1 x Chef Jacket White
1 x Chef Trouser Check
1 x Cap White
1 x Apron Waist White
1 x  Neckerchief White
1 x pair black, non-slip Chef shoes
Knives and Other (approximate cost $270.00)
1 x Club Premium Chef Knife 25cm
1 x Club Premium Fillet Knife
1 x Club Premium Boning Knife
1 x Club Premium Turning Knife
1 x Palette Knife 20cm
1 x Club Premium Bread Knife
1 x Victorinox Peeler
1 x Sharpening Stone Combination
1 x Combination Zester Vogue
1 x Club Premium Paring Knife
1x TKC Sharpening steel
1x Pastry Brush Vogue 1"
1x Digital Food thermometer
1x Dough Scraper
1x Knife Case 17 packet
2x Kitchen Towel
1x Nozzles Set 3 each assorted
1x Pastry Bag Thermo
We are located in Brisbane and Townsville, Queensland, along the east coast of Australia.
Both of our campus locations are easily accessible by public transport, with a short walk to the central business district. We are close to major amenities, such as cafes, a library, restaurants & student accommodation options.
Pathways to further study
If your goal is to progress to higher level skills or management, this certificate course will provide a solid foundation upon which to progress into the following;
Diploma of Hospitality Management
Diploma of Business